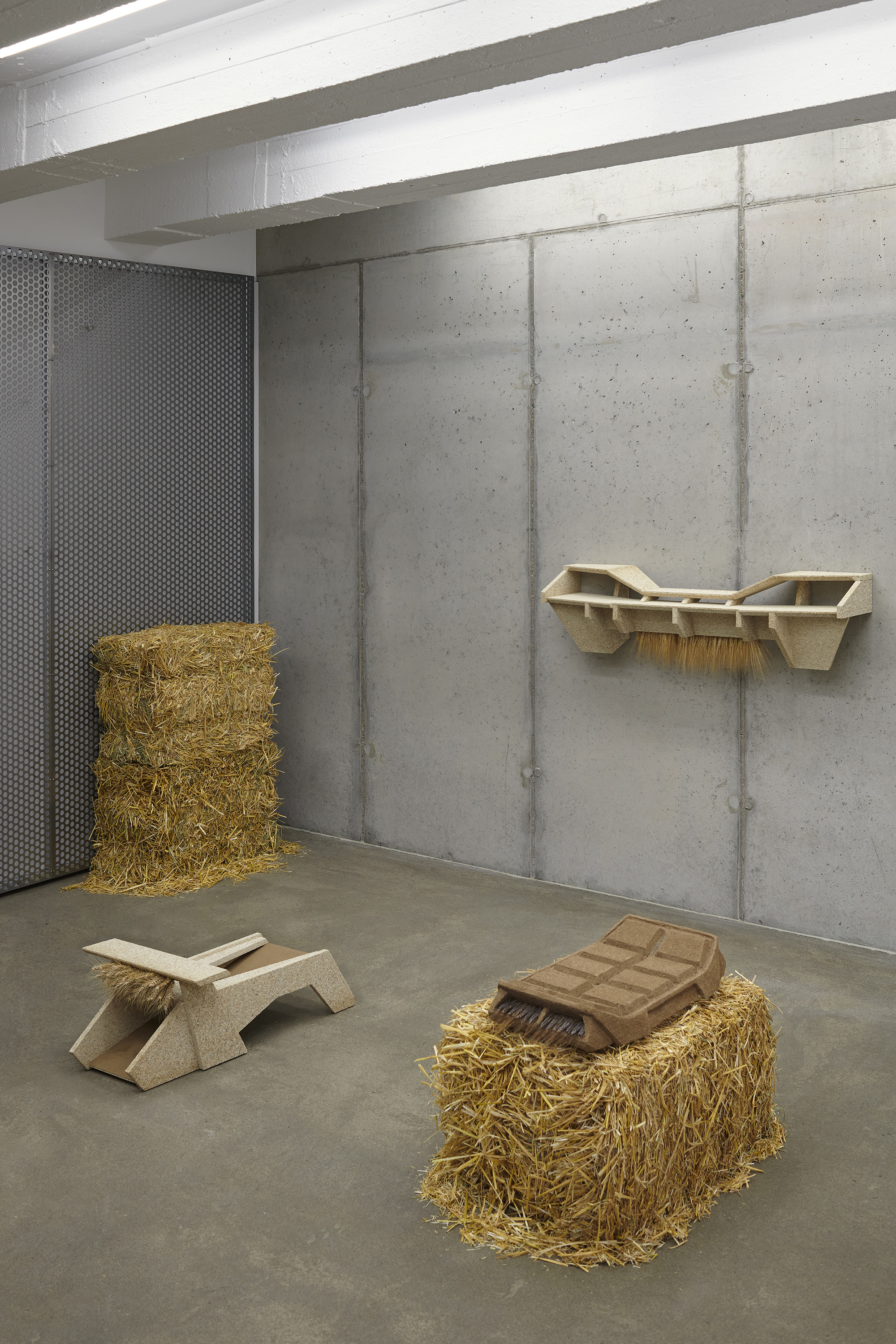 Hortulanus
The
Hortulanus
pieces are compostable furniture from long-known natural low-tech materials that challenge future scenarios. The objects make use of low-embodied energy resources such as straw, corn, and loam to re-envision our relationship with natural, local materials. The idea is that objects aren't made for permanence but rather have a purposefully limited lifespan, incorporate maintenance, care and decay in their design.
Hortulanus employs vernacular architecture techniques from Germany while simultaneously questioning the aesthetics that long have been associated with high-tech design and 'green' design. As a result, the project questions whether the high-tech solutions society is currently pursuing will have the longevity and reliability of their nature-centric alternatives.
The objects are made in one part from straw plates, a newly engineered material, using agricultural leftover straw and additives like miscanthus, hemp and sea grass, which are fully biodegradable. Other parts are finished with loam, as it renders the structure more stable and has excellent qualities for the indoor room climate. As loam is raw and unburnt, it can be reused and reshaped by simply adding water to it, or it can be put back in the ground. Details like corn ears from barley and wheat were collected in the fields in July before the harvest and in a manner accustomed with German harvest ritual objects.
Design, Concept, Production:
Johanna Seelemann, 2021-2022

Picture CreditS:
Exhibition Views by Robert Damisch
Other Pictures by Johanna SeelemanN


Production Second EditioN:
Studio Hahn und Hosemann
Johanna Seelemann
Mathilde Drouhain
Marie-Luise Jesch

Support:
Creative Industries Fund NL, Talent Development

Special Thanks to:
Marie-Luise Jesch, Christoph Born, Europäische Bildungsstätte für Lehmbau, Patricia Leister, Sächsischer Landfrauen Verband e.V., Hannelore Krausch, Beerendorfer Landfrauen, Europäische Bildungsstätte für Lehmbau, Felix Krobitzsch, Wachauer Agrar- und Transport GmbH

Prize:
Green Concept Award, Category Interior and Lifestyle, 2022

Exhibitions:
︎︎︎ 'Hortulanus', Re:Future Lab, Berlin, 14 September - 5 November 2022
︎︎︎ 'Slow Life', Finemateria, Piazza Città di Lombardia, Salone del Mobile, Milan, June 2022
︎︎︎ 'Escapism' Collectible Fair Curated Section, Berry Dijkstra, Brussels, May 2022
︎︎︎ 'The Circle', with Dutch Invertuals, hosted by MAKK - Museum for Applied Arts, Cologne, Jan-April 2022
︎︎︎ 'Objects for a New Kind of Society', hosted by Dutch Invertuals and The Future Laboratory, Eindhoven, 2021